Cultural Film Funding by BKM
In addition to its own funding activities, the FFA handles film projects funded by the Federal Government Commissioner for Culture and the Media (BKM) as a service provider. This also applies to BKM distribution funding and BKM short film funding.
Production funding and follow-up projects of the German Film Award
The Federal Government Commissioner for Culture and Media (BKM) supports the development and production of full-length feature films, documentaries, children's films and short films as part of its cultural film funding programme.
The aim of the funding is to strengthen the artistic standing of German film as well as its diversity.
Eligible to apply are producers of primarily German-financed productions. Depending on the project and the funding measure, up to € 500,000, in exceptional cases up to € 1 million, can be applied for. All funding amounts are non-repayable grants. Funded film projects must subsequently be released in cinemas The BKM's funding decisions are based on recommendations from independent juries.
Travel grants awarded as part of the German Film Awards are also non-repayable subsidies. They are earmarked and must be used for a follow-up project.
Contact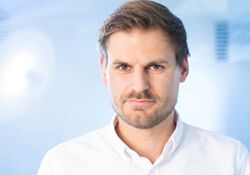 David Kussel
Teamleitung
Ausfallfonds I & II, kulturelle Filmförderung der BKM
Tel.: 030 27577-144